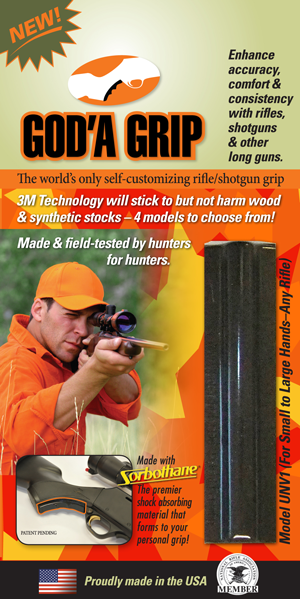 The world's only self-customizing rifle/shotgun grip
God' A Grip self-customizing gun grips were invented by Michael Godard. Godard grew up in Florida and North Carolina when he hunted, fished and hiked all his life (so far). His grandfather, who was and avid outdoorsman, taught him the skills of a hunter and marksman. Today, he still hunts in Florida and North Carolina.
Sorbothane® gave God' A Grip the gripping enhancements. Next Godard turned to 3M® to find the perfect adhesive to bind to all kinds of stocks and not let go. 3M® had just perfected a new formula that was perfectly suited to the task. After many hours of field testing, the product line was put into production.
"I'm just a guy that has enjoyed spending a great deal of my life, hunting, fishing and appreciating the beauty of the great outdoors. I'm a firm believer in teaching your children to respect and enjoy nature. Part of that lesson is to experience our heritage of hunting, shooting and the conservation of our woods and waterways…MORE