Insoles
SORBO® BOOT™ PERFORMANCE INSOLE
Designed by dedicated outdoorsmen for the hunter, hiker, trap shooter or fisherman. The durable Sorbo® Boot™ Insole features a long-lasting base of air infused poly foam for lightweight cushioning. Then a Sorbothane® heel inlay is built in to protect against damaging impact shock. The Poron® layer and brushed top cover help keep feet cool and dry. A molded deep cup heel and arch support help stabilize the foot and ankle. No other insole on the market combines these quality features and benefits.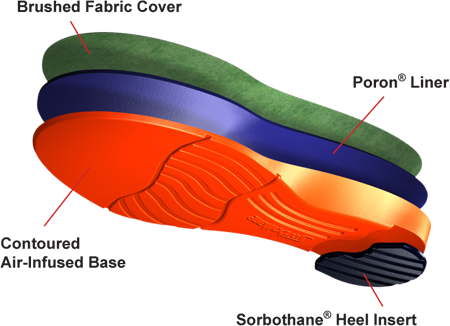 SORBOTHANE ULTRASOLE INSOLE
Sorbothane's UltraSole is a high-performance insole that provides ultra shock absorption (up to 94.7% of impact shock) and amazing energy return for injury prevention. UltraSole™ has been engineered to better protect the feet of runners and walkers seeking extra cushioning and energy return. Now with 40% more Sorbothane®, UltraSole™ insoles selflessly bear the brunt of the impact from each stride and instantaneously recover for the next. An enhanced profile contours to all foot shapes, offering support and encouraging proper pronation. A runner's last properly fits running shoes. The result is high-performance support, foot strike protection, flexibility and cushioned comfort that sidelines pain, not the athlete.
Sorbothane insoles are recommended by doctors, sports medicine specialists and professional trainers for athletes of every type and level. Sorbothane insoles are your best defense against foot pain, back pain and impact related injuries such as Achilles tendonitis, runner's knee and shin splints.
Recipient of the American Podiatric Medical Association Seal of Acceptance, which recognizes products that have been found beneficial to foot health, and of significant value when used in a consistently applied program of daily foot care and regular professional treatment.